Hi all,
I have gone through and updated all our OpenWrt and kernel builds in the last few days.
This includes:
OpenWrt 21.02 (with 5.10 backport)
OpenWrt 22.03+rc5
muvirt with 22.03+rc5
Kernel 5.10.128, 5.15.52 and 5.19.0-rc5 packages for Debian
Download links are on the front page of archive.traverse.com.au
All these include a bugfix for the real time clock driver, which did not properly read and set the 12/24 hour mode. The patch has been submitted upstream.
If you are upgrading from OpenWrt 21.02 to 22.03, be aware that 22.03 migrates to the new nftables based firewall4. You may need to take action if you have custom iptables rules (e.g /etc/firewall.user), or applications that interact with iptables rather than nftables (see openwrt/packages: Certain upstream switch to firewall4 aka nftables instead of iptables)
Note: due to a compile breaking change in recent 5.10.12x kernels, the xtables-addons package has been removed from our 21.02 builds.
I am going on vacation for the next couple of weeks, so there won't be any updates during that time, except for a major security issues.
SFP information/statistics for LuCI
Also included in the OpenWrt/muvirt 22.03 builds is a new SFP information module for LuCI: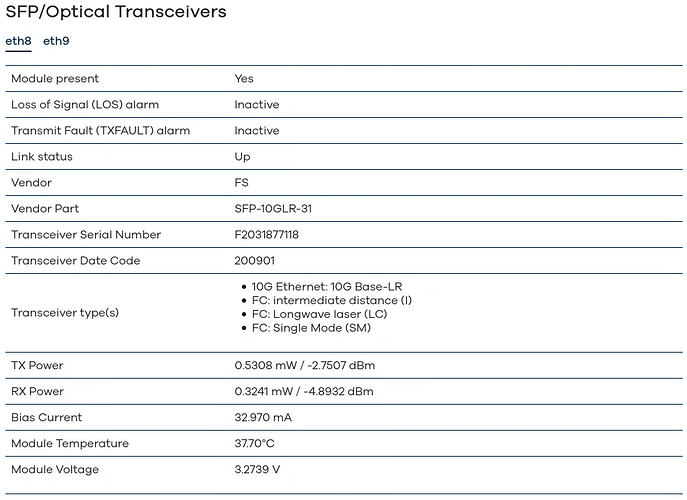 This is basically a nice interace to the ethtool -m command.
The code for this module currently lives in muvirt-feed/sfp-diagnostics-luci. It also requires an addition to board.d to add the SFP slot info to board.json.
This depends on a patch I developed for ethtool that adds JSON export support for it's -m / --module-info command:
https://patchwork.kernel.org/project/netdevbpf/cover/20220704054114.22582-1-matt@traverse.com.au/
Once the ethtool patches are upstreamed I will look into getting the module itself added to LuCI.
Any feedback on this would be much appreciated.